Here are the job search add-ons that make Firefox the only browser for job seekers.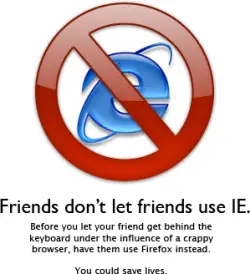 I'm not just saying that. Google Chrome only has a few
extensions for searching job boards
, while Internet Explorer has no specific job search add-ons at all.
How to use this guide
All the add-ons mentioned here can be found in the
Best Job Search Add-ons collection
I created on mozilla.org.
Search plugins
Search plugins add a specific search engine to your browser's search box.
Indeed Job Search
:
search Indeed.com, one of the biggest job search engines in the USA.
Jobtweet.de – Twitter Job Search engine (English version)
: search Twitter for job openings from English-speaking countries. Other versions of this add-on search for jobs in
Russian
,
French
and
German
.
TwitterJobSearch
: Search Twitter for job listings.
CharityJOB
: search for fundraising jobs, charity jobs, and third sector jobs in the UK.
DoNanza Freelance Job Search
: search the "world's biggest search engine for online freelance jobs."
oDesk Jobs
: "from within your Firefox search bar, simply type a query and browse through matching oDesk assignments." Another freelance job search add-on.
Curriculum for Professionals
: "search directly from your browser the exact job post you are looking for." (Brazil)
Jobexpress.pl
: search job listings on this Polish job board. (Poland)
Zarplata.ru – instant search
: search job offers from top Russian companies. (Russia)
Super add-on tip
: use the terrific
Add to Search Bar add-on
so you can
search any website
directly from Firefox's search box.
Toolbars
I try to avoid installing toolbars because they're rarely worth the space they take up on your screen. Just remember you can hide each toolbar until you need it (right-click in the toolbar area, and then uncheck the name of the toolbar to hide).
Linkedin Companion for Firefox
:
Search for a job by seeing who in your network can connect you while browsing major online job sites. Most useful for the LinkedIn JobInsider sidebar panel that will show you contacts on LinkedIn from the company whose job listing you're viewing.

Firefox Super Search
– "over 160 of the best people search and web search engines in one handy add-on, including 67 searches that can be done right from the toolbar, without having to visit each site and retype the name or search term that you are searching." Most useful for the built-in, US-based search engines and people searches, most of which I told you about in my
200+ Resources and Tips To Help Manage Your Reputation Online
.
Other
JobSpeaker
: helps you manage your job search by allowing you to save, rate and track jobs that interest you and also lets you forward or tweet jobs to your friends. A nice idea.
pBot, job applicant
: "pBot was a project conceived out of frustration with the job application process; specifically the pseudoscientific 'personality test' that seems to tacked on the end of every application for even the lowest level jobs. Instead, pBot will fill out Unicru job application 'personality tests' for you." More information at the add-on's
official site
. I'm not recommending you use this tool, but it's worth knowing that it's out there.
If you liked this article, you'll enjoy
RSS: The Best Job Search Tool You're Not Using Enough
.
13 Best Firefox Job Search Add-ons
[JobMob]