Success Story: How I Used Twitter and LinkedIn to Find a Job During the Recession
: "
An ex-job seeker shares her story of how she used social media to find a job.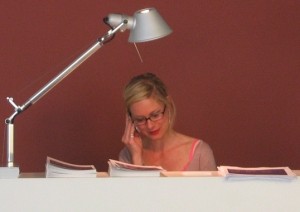 This a guest post by Lisa Damast.
I'm an early adopter when it comes to Web 2.0 and social media.
I joined Facebook two or three months after it started during my freshman year of college in 2004 and have been on sites such as LinkedIn and Twitter for 3 years and nearly 2 years, respectively.
When I joined these sites, I never really thought about the full potential they would have for helping me find a new job.
However, in February 2009 I decided to look for a new position as a marketing manager and noticed that one of the people I follow on Twitter had tweeted that he was looking to hire a social media expert and included a link to the job description.
Once I decided to use social media for my job search…
I checked out the tweeted link and decided to apply with my LinkedIn profile, which is essentially a virtual resume, being the focus.
Earlier in the month, I had updated my LinkedIn profile to reflect the changes in my work (I was doing marketing for a phrasebook company at the time and also included my blog and position as co-organizer of a popular local business networking group) and to make sure I had recommendations from former bosses and co-workers at previous jobs.
I also made sure to include a brief summary about myself - which LinkedIn recommends - and added my specialties to that section.
After I interviewed with the owners of the marketing agency, I made sure to again direct them to my LinkedIn profile in the follow-up email that I sent.
When I received an offer from the agency, the owners mentioned that they were very impressed by the LinkedIn profile. Of course, another factor was my successful track record using Twitter and blogging.
While Twitter and LinkedIn may not be how everyone finds out about jobs or what a potential employer will look at, it still helps to be on them.
I often have friends in the marketing field who come to me for leads or advice when they are looking for a job. Whether or not I have a lead for them, based on the above experience and a chance situation I had on Twitter last November in which I helped a total stranger (at the time) get a job, I tell them one of the first steps they should take in their search is to become active on Twitter and LinkedIn.
Takeaway lessons
Be active on major social media networks like Twitter and LinkedIn
Update your social media profiles before your job search
Follow the recommendations for each social media website
If the social media profile helped get the interview, mention it again when following up
Conclusion
Since so much about finding a job can be left to chance, being on these sites and using them properly provided me more opportunities for finding out about the right job and making the right connections.
About the Author
Lisa Damast is a marketing manager by day and technology blogger by night. She is the founder of Israel Innovation 2.0 and a regular contributor to Green Prophet. Follow her on Twitter at @lisadamast.
This article is part of the 3rd Annual JobMob Guest Blogging Contest. If you want Lisa Damast to win, share this article with your friends.
If you liked this article, you'll also enjoy Success Story: How I Used LinkedIn and Facebook to Find a Job During the Recession.